Respiration Learning & Resources
Respiration webinar: in this webinar we discuss research that used the BioRadio to test breathing as an objective measure for pain.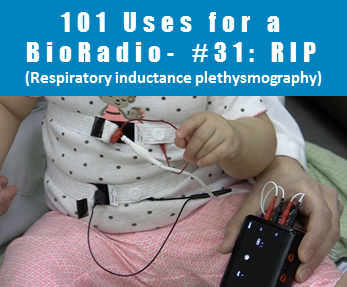 Respiratory inductance plethysmography (RIP) is a method of capturing respiration data with the BioRadio. It's not obstructive so it's highly effective for ambulatory measurement. But it's a passive form of capture so it's useful with an infant population. Learn more about our RIP capabilities in the infographic on the left.
Wireless. Lightweight. Versatile.
The BioRadio is a wearable physiology monitor for measuring respiration. Features a compact amplifier and flexible options for acquiring respiration data. With applications in human physiology labs, exercise physiology monitoring, or biomedical engineering, the BioRadio is a versatile solution for research and teaching.
To learn more about the BioRadio and to get product and pricing information, visit our BioRadio Online Store.
Let's talk about the possibilities for using the BioRadio in your teaching or research program.
As stated in GLNT's Privacy Policy, we will not sell, rent, lease, share or otherwise distribute contact or interest information you provide.
In addition to respiration, the BioRadio
Lab Course curriculum
covers a wide variety of topics ranging from technology basics such as data acquisition and signal processing, to more accelerated labs in the fields of clinical applications and advanced physiology.